I've been playing soccer professionally since I was 14. I played for England's national team in the last World Cup in 2015 where we won the bronze. I recently picked up my first ever injury in my career. It was devastating, but yoga has literally changed my life during my injury.
I always thought people who did yoga were really good at it. I saw yogis who were really flexible, and I was nervous to go because I felt like I wasn't good enough to do it. My partner convinced me to give YogaSol a try, in spite of my injury.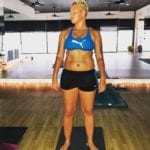 When I first came to the studio, they realized there were some positions I just couldn't do because of my injury. They give me lots of alternate poses, and I do what I can do. I realized you don't have to be really good; you don't have to be really flexible. You just make it your own practice. Even though there were many poses I couldn't do because of my injury, there are many I can do now. I can actually see progression, and that's the best feeling.
When you're an athlete, and you have to take time off due to an injury, it can mess with your head. Even if you're not an athlete, or you haven't had a major setback, everyone deals with the day to day stuff in their heads, the good and the bad. Bikram Yoga allows you to kind of meditate and let your brain go places it never has before. You really feel mentally and emotionally lighter when you leave the studio, because you've let go of whatever.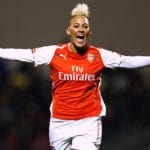 I loved yoga before, but I love it even more now because it's the only thing I've found that I can do that replicates my being on the soccer field. It's challenging mentally and physically, specifically Bikram yoga. You might not believe it's like soccer, but it is. You have to prepare for Bikram Yoga mentally, and that's what I love about it.
I feel like savasana (the final pose) is important for the brain to relax, and I also think it's a huge park of Bikram. Some people walk out immediately, but my partner and I like to stay for at least 3 – 5 minutes longer to get the most out of the whole practice.
We've tried many different studios all over the world, but I really enjoy going to YogaSol. It's clean, vibrant and everybody is really nice.
Trying yoga for the first time, you have to be willing to step outside your comfort zone. Be willing to make mistakes. If you do something consistently, you'll get better at it. Every single day you'll see progression.
I'm the biggest Bikram Yoga advocate! I'm always trying to get people to go by telling them how amazing it is! This has been one of the best things to keep me ready to get back on the soccer field.
Follow Us for More Yoga Content
Other Pilates and Hot Yoga Tips You Might Like